CA Drivers License
Steps to getting a California Minor's Provisional License.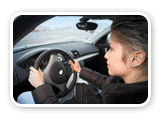 1)
Be at least 16 years of age.
2)
Show proof of driver education completion via your signed learner's permit. Make sure parents sign your permit verifying that you have completed 50 hours of supervised driving (10 hours must be at night) -
get drivers ed certificate here
.
3)
Have practiced with your instruction permit for a minimum of six months.
4)
Show proof of completion of drivers training classes, minimum of 6 hours (
Driving School Enrollment here
).
5)
Show proof of insurance for vehicle you will take the road test in.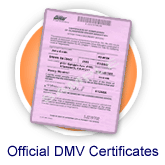 6)
Show vehicle registration for vehicle you will complete the road test in.
7)
Bring a car or truck that is safe and fit for road use (check your lights, brakes, signals, horn etc.)
8)
Call the CA DMV at 1-800-777-0133 between the hours of 8 a.m. and 5 p.m. Monday - Friday, to schedule a drive test appointment.
9)
Pass the behind the wheel driving test and you go home with a temporary provisional license (plastic license will be mailed to you in a few weeks)!