Getting a Permit FAQ.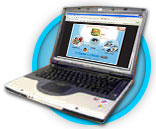 How old do I have to be to apply for a learner's permit?
You need to be at least 15 Ĺ years old.
Can I take this online course if I am under 15 Ĺ years old?
If you are a high-school student you can take our CA drivers education course before you turn 15Ĺ years old, but you can't apply for a CA learner permit until you turn 15Ĺ. It is suggested that you are close to 15 years of age prior to beginning this course so that you will thoroughly remember the course material when taking the written test at the CA DMV for a permit.
Does this permit course fulfill DMV requirements?
Our California online drivers ed course is approved by the CA Department of Motor Vehicles and satisfies the DMV requirements for getting DMV Form DL400C for Completion of Driver's Ed. You will be sent, via USPS, this form at the end of the course (when you pass the final exam), which you will need to take with you when you apply for your CA learnerís permit.
I'd like to take the course online, but I don't want to use a credit cards. Can I still take your course?
Of course! You may complete the entire driving school course, less the final exam, prior to paying for the course. If you'd like, you can make payment by mailed check or money order instead of using a credit card, and once we receive payment, we will give you access to the final exam. Remember that access to the final exam will not be given until payment is cleared. If you prefer, you can also call us at (800) 728-1048 and speak with one of our customer support reps. They will discuss your payment right over the phone and give you immediate access to the final test. Our friendly and helpful customer service representatives are available on MON through FRI from 8 a.m. to 6 p.m., and on SAT from 10 a.m. to 4 p.m. to assist you. We are also available after normal business hours by email. We also require that minors obtain their Parent or Guardian's assistance when paying for their CA Drivers Education course.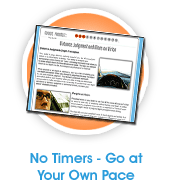 How long will the course take?
We do not put time restraints on our drivers ed programs. A time restraint would make you spend a specified amount of time on a section before allowing you to move on. Our program is completely self-paced. This means that if it takes you a little longer to read the material and answer questions, then you can take your time. If you are a very fast reader, then your skills will not be restricted. We do recommend taking your time and absorbing all the driving instruction material. This will make the testing process much easier and smoother for you.
What do I do if I fail the online course?
In our course, you have the benefit of reviewing all material before answering any questions. In addition, the answers to all questions are within the course material. Although highly unlikely, there is the possibility of failing, but we also allow you unlimited chances to re-take the test questions if you don't pass on your initial attempts. That means you can take the test over and over until you pass, free of charge. If you are having problems understanding the material, you may e-mail us at info@driverseddirect.com or you may call us toll free at (800) 728-1048.
How and when do I pay for the course?
You may pay for the course online at any time - once you are registered, or if you chose the pay later option, at any time up until the final exam. Remember, you must obtain your parent's permission and assistance when you do pay for your course.
Do I have to complete the entire drivers ed course in one sitting?
It's up to you. Our courses are entirely self-paced, which means that you can finish them all at once or you can stop and start back up when you like. We have built this dynamic into our classes so you can choose the exact amount of time it will take you to complete.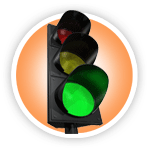 How much time do I have to take the course once I've made payment?
Take as much time as you need, but we suggest completing your course as soon as possible.
How long will it take you to send my completion certificate after I finish my course?
Once you finish your online course, we will process and mail your certificate within 1 business day via the method of delivery you have chosen. Please allow standard USPS mailing time before receiving your certificate once it is mailed (usually 1-5 days).
What should I do when I get my certificate in the mail?
Take it to your local DMV so you can take the written DMV test to receive your learnerís permit.
What should I do in the event I've lost my California drivers education certificate?
In the event that you lose your certificate, there will be a mandatory $25.00 replacement fee to have another certificate sent. Also, a signed letter from a parent/guardian is required to obtain a 2nd certificate when the 1st one is lost.
If I am over 17Ĺ years of age, will I be issued a certificate of completion?
Nope. Students who are at least 17Ĺ years of age completing the CA Online Drivers Ed Course or Behind-The-Wheel Training WON'T be issued DMV certificates as they are not required for obtaining a driver's license at the CA DMV.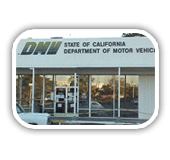 What other information do I need to take to the DMV other than my certificate?
For a detailed list of what you need to take with you please go to our CA Permit Checklist.
What if I fail my CA Online Drivers Ed final exam the first time?
Not a problem, students have unlimited chances to pass their CA Online Drivers Ed final exam. If you fail, simply review the material again and take the test again...at no added charge!
How do I pick-up where I left off on a course already in progress?
Each time you pass one of the sections, your course status will be saved. When you want to re-enter a course in progress, simply login at our Driver's Ed Course Homepage. To access your in progress course, you just need to enter your username and password entered during registration.
What if I lose or forget my course password?
Either click on the "I forgot my password" link on the login page or simply call us at 800-728-1048.
Do my parents have to be present while I take the course?
Your parent or guardian must agree that they will supervise you completing all CA driver's ed course testing without any outside assistance.

Does my driverís ed certificate ever expire?
Yes, exactly 1 year from the date of issue.
Does my learner permit expire?
Yes, 1 year from the day that you applied for a provisional learner permit. DO NOT confuse the application date with the permit issuance date. For instance, if you apply for a permit today but donít pass the DMV written test for a week, then your permit expires a year from the date you applied for a permit, not from the date you physically received the permit.
Getting a License FAQ.

How long have your behind-the-wheel teachers been instructing?
To qualify to become a instructor, we require all applicants to have experience working with teens and adults in some capacity. Whether itís working as a camp counselor, mentoring at a local youth organization or having high school teaching experience. Many of our instructors have been teaching teens in these different areas for many years. Each instructor has had a diverse background in teaching a variety of skills, from math to dancing to coaching sports!
How many driver's training instructors do you employ?
We have a highly trained crew of drivers ed and drivers training instructors to meet the needs of our driving students. We offer driving lessons every day of the week (except select holiday's) and will do everything possible to meet all instructor requests timely.
Do you employ both female and male driving school teachers?
Yes, we have both female and male teachers on staff and ready for drivers training lessons. Please feel free to contact us with any preferences.
How do your driving school teachers deliver their curriculum?
Through research, weíve found that new drivers feel more at ease and will ultimately learn and digest more information when taught by patient and relaxed instructors as opposed to the traditional method of drivers training with an iron fist. In addition, California Drivers Training believes that a mentor style approach is a more effective style.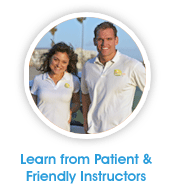 Can I drive along in the car during my son or daughter's lesson?
Yes you can. However, we do not suggest you ride along during your child's lesson as getting behind the wheel can be very stressful for teens. They often perform better without the added pressure of having their parents looking over their shoulder. We make every effort to try and have the first time drivers experience be as stress free and pleasant as possible.
Are the drivers training instructors pleasant?
Our instructors are friendly, personable and a lot of fun. Always responsible and competent, they also have great personalities and can make learning fun at the same time.
Are there special group discounts or coupons for multiple students?
We do offer discounts when you sign up three or more students at a time. For more information, please call us toll free at (800) 728-1048 or email us.
Can you promise my son or daughter will pass their license test?
What we can promise is that your son or daughter will get the best behind-the-wheel training out there. Furthermore, we will conduct practice tests and discuss the DMV driving exam during our lessons. However, remember that you play a essential part in your childís driving development. After your teen completes their behind-the-wheel training with us, you will need to drive with them as well to continue to reinforce the principles of safe driving and practice the skills learned on their drivers training sessions.
Do your driving school cars have dual controls?
All of our training vehicles are equipped with instructor brake pedals and additional safety mirrors that will be used as needed.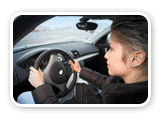 Can you take my son or daughter to the DMV for their driving test?
Yes, we have a DMV Test Prep package available. Let us schedule the driving test at a local DMV at a convenient time for you and your family. Plus, we will practice with you before the driving test and then take you to the DMV for your actual road test.
Do you take your students on freeways?
As part of our 6-hr driving package, we give students a Ďsampleí of the freeway. However, students that sign up for our 10-hr driving package will get more extensive training on freeways and canyons.
What type of cars do you use for driving lessons?
All students train in new 2005-2008 vehicles with additional safety features included such as extra airbags (side and head curtains) and vehicle stability control systems. We have the new 2008 Toyota Prius and the new 2008 Ford Escape Hybrid SUV. All vehicles in our fleet are hybrid vehicles.
Do you offer training in an SUV?
We are one of the few driving schools that offers specialized driving instruction in a Sport Utility Vehicle (SUV). Unlike normal passenger vehicles, SUVís drive differently, and our SUV training lessons focus on this fact. Our ground breaking SUV course thoroughly discusses the risk of rollovers; center of gravity and proper loading amongst other specific SUV related topics. Also, all our SUVís are gas-electric hybrids too!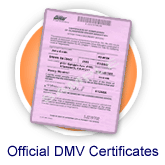 What do I need to bring to the DMV when I get my Drivers License?
To find out what you need to take with you to the DMV, check out our DMV Road Test Checklist.
What if we need to cancel or change a driving appointment?
You may call us at (800) 728-1048 or send us an email at schedule@driverseddirect.com. Please note that we have a 24 hour cancellation policy. If you need to cancel or change an appointment, please contact us at least 24 hours in advance to avoid a $45.00 late cancellation or time change fee.
How do I reschedule a driving lesson?
Reschedule by calling us toll free at (800) 728-1048 or by sending us an email at schedule@driverseddirect.com. Remember, we have a 24 hour rescheduling policy.
Do you have DMV practice exams?
Yes, we have practice exams available for you to study and take before your test at the DMV. We encourages you to practice as often as you would like.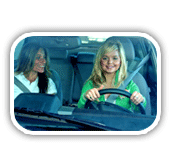 How do I set up an appointment for my driving lessons?
You can make driving lessons appointments through our website or call us at (800) 728-1048.
Will you schedule my driving test at the DMV for me?
Yes, if you have purchased our DMV Test Prep package.
Do you pick me up students at school or at work?
We will pick up any student for their driving lesson appointment wherever you designate, as long as it is within our driver's training area. We can pick you up or drop you off at school, work, or at home. Make sure to let us know where you would like to be picked up when you book your appointment.
What if I do not pass my DMV driving test on the first try?
The DMV requires that you wait one week before you can retake the test again if you donít pass your test the first time. Use the week between tests to practice or take more driving lessons.
What if I forget or have lost my learnerís permit when you pick me up for a driving lesson?
All driving school students must have their learner's permit with them at all times when taking our course. This is mandatory. However, for emergencies, we do offer student licenses that will allow you to continue with your scheduled lesson without your permit.
What age do I have to be in order to get a driver license?
You need to be at least 16 and have fulfilled all DMV requirements.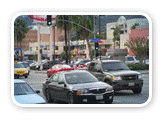 When will I receive my DMV completion certificate?
We mail your certificate of completion once you have finished your 6 hrs of behind-the-wheel training. Rush delivery options are available if you need your certificate sooner.
Once you receive your learnerís permit from the DMV, you must start your first behind-the- wheel training lesson with a licensed driving instructor before your learnerís permit is valid. Your learnerís permit is not valid until you take and complete your first behind-the-wheel training lesson.
I just finished my Online Drivers Education course or In Car Training lessons - will I receive a completion certificate if I am over 17Ĺ years of age?
Students who are 17 Ĺ years of age or older completing the California Online Drivers Ed Course or Behind-The-Wheel Training WILL NOT be issued DMV certificates. If you are 17Ĺ or older, a certificate is not required for obtaining a drivers license at the DMV.
General Driving School FAQ.

Is your Website secure?
Our Website is completely secure. We use the latest security technologies including SSL (secure socket layer) protection. The lock in the lower right corner of the browser screen can assure you of this. Remember, we will not share your information to anyone, except the DMV. Please view our privacy policy for details.
What types of delivery options are available for my completion certificate?
All California driving school completion certificates are sent via First Class Mail, FedEx 2-day or FedEx Overnight. You will be given the option for your certificate delivery when you register for the course.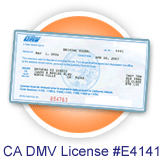 Are you DMV Licensed and Approved?
YES! We have teamed up with Drivers Ed Direct, a DMV Licensed Driving School (LIC # E4141) for California and our Online Drivers Ed course is DMV approved.
What do I do if I need help answering the questions?
Simply call us toll free at 800-728-1048 and one of our knowledgeable and friendly representatives will assist you.
How long have you been in business?
Since 1994, our partner company TrafficSchool.com has been educating drivers throughout CA including teen drivers with an online drivers ed course. Recently, TrafficSchool.com branched off its teen drivers education course and adding a revolutionary behind-the-wheel training curriculum has formed Drivers Ed Direct. As a separate company, Drivers Ed Direct can focus on creating drivers ed courses and drivers training products more geared towards teens and new drivers.
What type of insurance do you have? Do I have to pay for the insurance?
All DMV licensed driving schools must have adequate insurance that is verified by the DMV. Drivers Ed Direct is California DMV licensed driving school DS#E4141 and has complete insurance coverage for all our vehicles. Our students and their parents do not have to pay anything extra for insurance.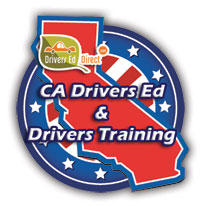 Mon-Fri 9AM-6PM (PST)
9121 Oakdale Ave., Ste. 120
Chatsworth, CA 91311

PHO: 800-728-1048
FAX: 707-313-1158