Traffic School
Let's make this nice and easy.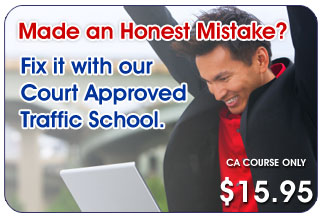 1)
You received a traffic ticket for speeding, making an illegal turn, or some other minor traffic violation.
2)
Your police officer or county court clerk told you you're eligible for traffic school.
3)
Being a smart person, you made the smart choice and got online to dismiss your ticket.
4)
You clicked the get started button below, found your proper court, and finished your traffic school class in hours, from the comfort of your home.
5)
Now you can pat yourself on the back, knowing you fixed your ticket and your insurance company won't raise your rates. Nice going, you smart person you.
All you need and just a little bit more.

We know you have 1,000,000 half rate online traffic school providers to choose from. The way we stand out is by offering you more than any other traffic ticket fixer out there. With
California Drivers Training
you'll get the things you'd come to expect from any respectable internet traffic school:
Court approved courses
Lowest price we can offer
Online access from any internet ready PC or Mac
Completion certificates mailed to you or the court (depending on the court)
The icing on the cake.
We keep going where most good traffic schools stop. Because we strive to be the BEST, we go above and beyond to offer you all you could ask for, including:

Free trial that allows you to try before you buy
Course content provided by TrafficSchool.com - the clear leader in online traffic school
Speedy delivery option available to help you beat court deadlines
Interactive flash lessons - our course is not all text and pictures like most courses
Looking for an even better deal on online traffic school? Go to traffic school with
TrafficSchoolGoTo.com
- for a limited time they are offering dirt cheap traffic school for 50% off!